Paddle Wanaka is a progressive company with an infectious passion.
Our aim is to share our local knowledge within our own backyard with all those who wish to experience the Wanaka region, and all it has to offer.
Owned and operated by Chris and Bex Thornton who hail from roots of NZ high country farming, paragliding and commercial skydiving. They have built Paddle Wanaka from the ground up.
A passionate young whanau with an enthusiasm for the outdoors and getting amongst anything they put their hand to. They have over 25 years of experience in the Adventure Tourism Industry and international kayak guiding experience. Supported by a highly skilled and hard working crew, the Paddle Wanaka team strive to create an unforgettable outdoor experience. 100% kiwi customer service is the core value.
Offering guided kayaking and Stand Up Paddle Boarding (SUP) tours on Lake Wanaka and the Clutha River, we have a number of different options for you to choose from. Depending on your interests and the amount of time you have at your disposal, you can opt for a short beach rental or an epic full day adventure! We have something for everyone!
Our guided tours are small and personalised so they can be adapted to suit all levels of skill and abilities. We have friendly and experienced guides who can cater for anything from first timers through to running Grade Two Certification courses.
Meet the Owner/Operators
Chris Thornton: (AKA Thorny): Co-Director: On call 'Skipper'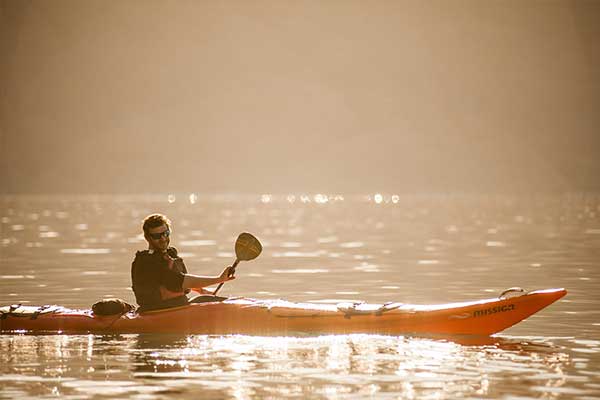 After graduating from University with a Bachelor of Recreation Management, Chris worked in a number of roles on the West Coast of the South Island. Starting with the Conservation Corp, then as a Ranger with the Department of Conservation and then on to glacier guiding. This was his introduction into Adventure Tourism which has since lead him around the world as a glacier guide. A paragliding fanatic, sea kayaking instructor, ski-field cafe manager, outdoor instructor and skydive instructor (Indoor & Outdoor) to name a few.
In 2004 Chris had a terrible paragliding crash, (which as he says, was due to too much energy and not enough knowledge!). He spent 10 days on life support with a multitude of surgeries on his spine, hip and left leg. Six months later he was learning to walk again.
This experience strengthened his resolve and passion for the outdoors. He has since spent the following 15 years working and training teams and individuals, in different outdoor forums. How to have fun in the outdoors, whilst being able to see and manage your risks! Ultimately this drive for safe, fun outdoor experiences has lead Chris and his wife Bex to develop Paddle Wanaka.
As Chris says "We only have one chance on this planet, this is it, let's enjoy it and be around to tell the story"!
Bex Thornton: Co-Director and General Manager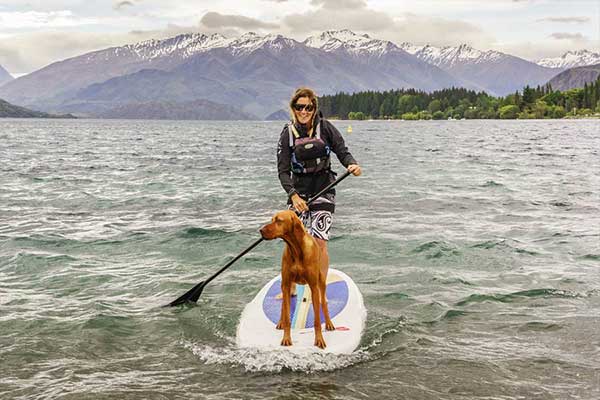 Born and raised on a high country farm in Central Otago. With a passion for exploring the wilderness, an office job was never going to be Bex's cup of tea! So with a Diploma in Applied Recreation in hand, Bex began her adventure tourism experience on the West Coast of NZ in horse trekking and rafting roles.
After this, Bex gained vast experience in outdoors instruction at a variety of locations in both Australia and NZ. These including instructing at kids camps in the outback, sea kayak guiding, navigation and survival skills. Mountaineering, abseiling, rock climbing and mountain bike guiding. After completing her commercial sky diving Diploma, Bex then travelled the world.  Working in the sky diving industry, ski field industry and several years' sea kayak guiding in the Norwegian fjords. Bex has been one busy lady!
Now settled in Wanaka with co-adventurer and husband Chris. They have two beautiful boys, a wee girl and a Hungarian Vizsla. She is still living the dream!
As she says 'I feel so grateful to share our slice of heaven with others doing exactly what we were put here to do'.
The Paddle Wanaka Crew
Paddle Wanaka are proud to call Wanaka home. We hope you enjoy exploring our playground by kayak or Stand Up Paddle Board (SUP) just as much as we do. Meet more of our team here: The Paddle Wanaka Crew